Current water level at Fisheating Creek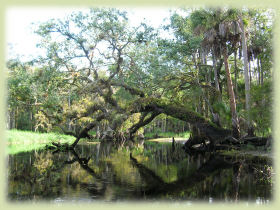 Save Our Creeks is a Florida non-profit membership organization made up of interested citizens and groups devoted to the general purpose of conservation of natural resources, especially creeks and small waterways. Our focus is primarily in SW Florida, but our scope reaches throughout Florida and even to the entire United States
of America.

Save Our Creeks was organized in 1989 in an effort to save Fisheating Creek from being closed to the public by Lykes Brothers. This landmark case resulted in the preservation of 18,000 acres surrounding a beautiful cypress-lined creek winding 52 miles from its headwaters in Highlands County through Glades County all the way to its mouth on Lake Okeechobee. This case has set important legal precedence in protecting other waterways in Florida. To this day, Fisheating Creek remains one of the most pristine waterways in Florida and crucial habitat to endangered panther and many other threatened and endangered species, such as the Florida black bear and swallowtail kites. It is also the only part of the Everglades watershed that has not been altered or destroyed by humans - and while billions of dollars are anticipated to be spent on Everglades restoration, there are still many threats to this creek. Save Our Creeks continues fighting to protect Fisheating Creek.

Currently we are fighting efforts to backfill Fisheating Creek in the Cowbone Marsh area. Plans include construction roads, dredging and deposition of sand across the marsh, and blocking public access and blocking the preferential waterway through the Marsh.